Date Published: 14/12/2021
11 reasons why it is worth putting in artificial grass: LawnHub shares the benefits of artificial grass
For many gardeners, artificial grass is better than grass because it's more practical and looks just as good as real grass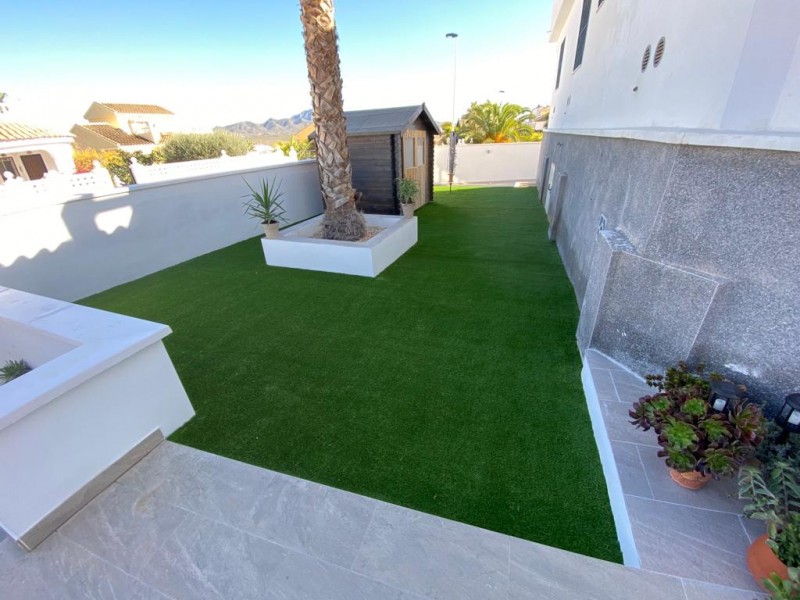 There's nothing like having a green space in your home that you can enjoy at any time of year and which doesn't require too much care and attention. That's why more and more people are turning to artificial grass as an alternative to real grass.
But what are the advantages of installing artifical grass? And how should you care for artificial grass? Professional artificial grass suppliers LawnHub explain…
Your garden will look perfect all year round, no matter the season, as the weather will have no impact on the grass.
Artificial grass doesn't need watering so reduces water usage.
Artificial grass doesn't need mowing or a lot of maintenance.
With less maintenance it makes it a good option for people who spend long periods of time away from home, the elderly and people with busy lifestyles who may find it difficult to maintain their garden.
Artificial grass is versatile enough to be used on areas where real grass can't grow, such as balconies and roof terraces, areas that don't get the sun and even indoors. Artificial grass also works commercially for outdoor entertaining areas, restaurants, cafés and pubs and within nurseries, schools and play areas.
It is ideal for shaded areas as artificial grass doesn't need the sun to grow and stay looking fresh and healthy. Without sunlight, real grass can die, making shaded areas difficult to care for. Artificial grass won't turn brown, making it ideal for shaded areas where real turf struggles to grow.
Our artificial grass is all child and pet friendly. Crucially for many people, artificial grass is practical for children and pets. Our mid to top range artificial grass all have a luxurious pile that is soft for those tiny feet and sensitive paws, while remaining dense enough to cushion those accidental falls. The denser the pile of the artificial grass, the easier it is to pick up after dogs and cats. It can then be easily hosed down and, using some pet friendly disinfectant, will keep your garden looking and smelling its best.
It looks great all year round. Most real, natural grasses only look nice for a short period of the year. When there's too much sun in summer, they often turn yellow or brown and when it rains too much they get soggy and muddy. Not so artificial grass, which stays green all year round. There are never any muddy or bald patches.
Artificial grass lasts much longer than real grass and doesn't need to be maintained or reseeded every year. It will stay fresh and usable for many, many years; all of LawnHub's artificial grass' have a 7-year manufacturer's guarantee and a life expectancy of approximately 15 years.
LawnHub's artificial grass is UV resistant for protection against the sun. This means it won't fade or discolour in sunlight and will maintain its vibrant green colour.
Flexible price for any budget. The wide range of artificial grass products available mean that anyone who wants to, can find the perfect artificial grass to suit both their lawn needs and personal budget to help create and enhance the perfect garden.
How to look after artificial grass
Artificial Grass is a very low maintenance option for your garden and to keep it looking it's best we recommend:
Regularly removing any leaves or debris that may accumulate on your lawn using a stiff brush, rake or leaf blower.
To help minimise the above, keep hedges and trees trimmed.
Using an artificial grass cleaner or pet friendly disinfectant to get rid of any smells from pet urine.
LawnHub are the leading suppliers of luxury artificial grass in Spain and the UK. Their artificial grass comes direct from the Netherlands and is the best quality on the market, with a natural look and feel.
Their story so far
The family-run business launched in the UK, where they work closely with the largest importer of artificial grass in Europe as their National Sales Division. They expanded into Spain in March 2021 and are becoming well known for their quality products and service. The demand for installation is high and they now have an experienced team of professionals that ensure the quality grass is laid to perfection.
Based on the Polaris World Industrial Estate in Balsicas, LawnHub serves the whole of the Murcia region and delivers throughout Spain, Portugal, the Balearic and Canary Islands. They sell to both trade and retail customers and have forged excellent relationships with landscape gardeners, professional artificial grass installers, construction companies and property developers, who now offer the top-quality grass to their own clients.
Why choose artificial grass?
There are many benefits to artificial grass. It requires little to no maintenance, doesn't need mowing or watering and is perfect for your home away from home. LawnHub's products have a natural appearance and look fantastic all year round.
What types of artificial grass do LawnHub offer?
LawnHub have a variety of styles in their current range, varying in shade, density and pile height, from 15mm putting-green grass through to their 50mm luxurious, top-of-the-range artificial grass. All are available in 4-metre and 2-metre widths and up to 40 metres in length, which can often be installed in one piece and reduces the number of joins in larger areas.
What services do LawnHub offer their customers?
The company offers customers a comprehensive, free, no-obligation quote and are happy to come and show samples of their range of top-quality artificial grass, so that you can choose the one that suits your needs perfectly. Customers further afield can request samples to be couriered and a quote can be given on the measurements provided. LawnHub offer a free delivery service throughout Spain, Portugal, the Balearic Islands and Canary Islands.
What areas can I put artificial grass on?
Artificial grass can be installed in many areas, including areas around a swimming pool, replacing turfed garden areas, tiled balconies, roof terraces and over concrete and paved areas.
Installation
Preparation is key to a professional installation and LawnHub have a fantastic team of experienced installers that ensure the ground/surface is prepared correctly before installing the grass. This can include digging out old, existing turf, applying weed killer and membrane and compacting the ground with a gravel/sand base. All of this is itemised in your comprehensive quote.
The team always make sure the job is completed to the highest standard, ensuring a long-lasting finish. If you do prefer to DIY, then LawnHub are always on hand to offer advice.
If you are considering Artificial Grass for your outdoor space, or if you are a landscaper, property developer or trade supplier and would like to add LawnHub's quality products to your current range, please don't hesitate to contact Peter on 0034 711 056 660, or email info@lawnhub.es
article_detail
Contact Murcia Today: Editorial 966 260 896 / Office 968 018 268