Date Published: 26/09/2016
ARCHIVED

- Griffon vulture found in Benidorm hotel released back into the wild
Young vultures often find it difficult to survive during their first year due to lack of natural food sources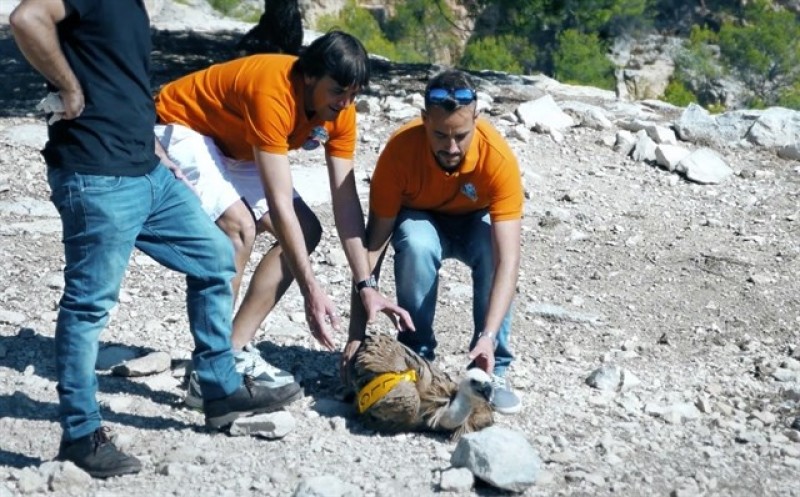 A month after being rescued from the roof of a hotel in Benidorm, a young griffon vulture has been released back into the wild after a short holiday under the watchful eye of Proyecto Canet.
It's fairly common for young vultures to be found in situations such as this at the end of the summer, as they have little experience of fending for themselves and find it difficult to scavenge sufficient food to sustain their body weight.
Vultures live on carrion and due to modern health and safety regulations, there is little in the way of natural food sources for these magnificent birds as shepherds are no longer permitted to leave dead livestock for scavengers, so modern-day vultures are forced to survive mainly on roadkill, a dangerous option on busy coastal roads.
There have been some documented cases in Spain of hungry griffon vultures attacking seriously weakened animals for food and in May 2013 the problem of lack of food for griffon vultures was highlighted in gruesome detail by the international media when a 52-year-old woman who was hiking in the Pyrenees fell off a cliff to her death and was eaten by griffon vultures before rescue workers were able to recover her body, leaving only her clothes and a few of her bones. Due to her being the first human to be documented being eaten by griffon vultures, the story brought worldwide attention to the griffon vulture problems in Southern Europe
This exhausted bird, suffering from dehydration, disorientation and lack of food, was rescued from a hotel terrace on the 23rd August by personnel from Aves Rapaces de Mundomar, who transferred him to a bird recovery centre in Alcoy, where he was fed, watered and allowed to rest before being returned to the wild.
The vulture has been tagged and released in the Sierra de Mariola where there is a 90 strong colony of these huge griffon vultures, living in controlled conditions and monitored to ensure they can survive in the wild.
These are large birds and males can have a wingspan of between 2.3 and 2.8 metres, with adult males weighing in at up to 10.5 kilos.
Contact Murcia Today: Editorial 966 260 896 / Office 968 018 268