Cafe Bar Yemanja Cabo de Palos for snacks, tapas and light dishes.
Where to Eat Cabo de Palos
Yemanja is a friendly and welcoming Café bar situated in the marina area of Cabo de Palos offering a choice of snacks and main dishes with a mixture of flavours. Something for everyone a cafe bar Yemanja.
Closed every Tuesdays and Wednesdays from September. Open Winters – 9 a.m till 5 pm Thursday – Mondays. Closed for winter vacations January and February.
Address
Paseo de la Iglesia , Local 10 Cabo de Palos La Manga
Tel: 677 504 844

Cafe Bar Yemanja in Cabo de Palos Marina

Yemanja is a friendly and welcoming Café bar situated in the marina area of Cabo de Palos. This is a busy, bustling place, which has a large central area where yachts are berthed, and a harbour facing out into the sea, a source of constant activity as boats come and go,
with dive schools, fishermen and private boat owners all providing a moving canvas of entertainment for people watchers.
The Café bar is located alongside the Marina area, and is a comfortable place to relax and watch the world go by, or to stop off for a drink or snack after strolling around the port area or visiting the nearby lighthouse. (Click
Cabo de Palos lighthouse.)
Yemanja is run by Magdalena who is originally from Argentina, but speaks excellent English and has worked in the hostelry trade for the 16 years she has been in Spain, and is best described as having a Bohemian Caribbean and South American feel. During the summer it is a vibrant, humming hub of activity, with latin music and a mixed clientele of all nationalities, the hot spot for a cocktail in the evening or atmospheric cool down and chill out during the day.
There are also live bands from time to time during peak season.
In the winter it is calmer and more relaxed, with a friendly and colourful welcome for a coffee or tapas, and is popular with both locals and visitors.
Tapas and Snacks in Cabo de Palos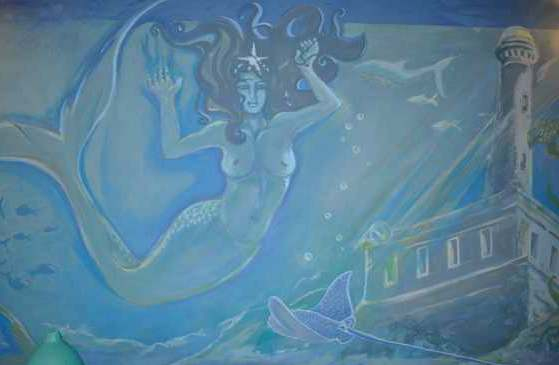 Cafe Bar Yemanjá offers a good menu selection with a mixture of light snacks, tapas and more substantial meals and sandwiches with a variety of fillings, Nachos, pasta and a selection of seasonal salads.
A good selection of tapas are also always on offer, with standard table platters of popular hams and cheeses always available, along with a range of standard fish and meat tapas. Each day a number of daily specials are posted on the bar blackboards, fusing some of the more colourful influences of Magdalena's native roots in with a range of local ingredients.
There are beef burgers or hot dogs with all the trimmings and chips, as well as a selection of both hot and cold rolls and sandwiches.
Those with lighter appetites can enjoy a selection of imaginative salads and during the busier months of the year Magdalena rustles up her popular Argentinian pies, with a variety of fillings as well as crusty Cruji Coques, a cross between an open topped toastie and a pizza, with vegetarian options for non-meat eaters, particularly popular with families. And for those who fancy a little something sinful, Magdalena serves a disgracefully tempting homemade chocolate cake and her own secret recipe cheesecake, as well as ice creams, crépes with an Argentinian syrup called dulce de leche, or profiteroles.
What is Yemanja?
Just in case you´re wondering what the name means, Yemanja is a figure associated with Afro-American religions, a goddess for want of a better word.
She is the Mother Goddess, the deity of women and queen of the Ocean. She cares for the fishermen and looks after the survivors of shipwrecks, as well as being the spirit of moonlight.
It´s a fitting parallel to Cabo de Palos itself and the Catholic celebrations celebrated in this fishing village, from which the Virgen del Carmen sallies forth in Marine procession during the summer.
Opening Times ~
Winter - (September– April ) 9 a.m till 5 p.m. (Closed Tuesdays and Wednesdays)
Easter Fiesta days open 9 a.m till close.
Summer - (June, July, August Onwards ) 10 a.m till late Every day. (Closed Wednesdays)
Closed for holidays January till end February..
Contact Murcia Today: Editorial 966 260 896 / Office 968 018 268