HOME
> CARTAGENA & LA UNION
CARTAGENA & LA UNION
Live Articles : 8
For more articles select a Page or Next.
What to visit in Cartagena
Main tourist attractions Cartagena Cartagena is a city steeped in history and has many fascinating locations to visit. These are the main attractions, although there are plenty of buildings and monuments of lesser importance which also make time spent..
Museo del Vidrio de Santa Lucia
The Museo del Vidrio de Santa Lucía recognises Cartagena´s glassmaking traditions Cartagenas new glass museum, the Museo del Vidrio de Santa Lucía, has now opened its doors to the public and is up and running as an exhibition facility..
11/10/2011
El Portus, reviving historic fishing techniques
El Portus, Cartagena El Portus, a little fishing hamlet in the Cartagena municipality is currently enjoying its summer fiestas, with a busy programme of events and activities to celebrate the summer. On Saturday it hosted a demonstration of historic..
07/08/2011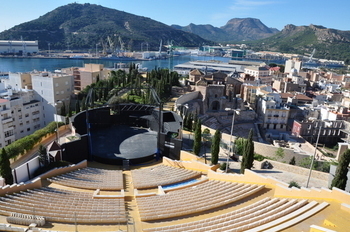 Cartagena, Auditorio Parque Torres
Auditorio Parque Torres, Cartagena This is an open air auditorium, used in the summer for festivals such as the Mar de Músicas and also as part of the Romans and Carthaginians fiestas at the end of September. It´s built into the side of..
AULA CAM, Cartagena
Cartagena Spain; AULA de Cultura, CAM Cultural Centres Cartagena, AULA CAM, Cartagena Casa Cervantes Calle Mayor 11 Cartagena Tel 968 52 90 55 This is the main road which runs straight up the centre..
Cartagena Burial Necropolis 3rd-7th century
Cartagena, Necropolis in the Museo Arqueologico The Necropolis on which the Municipal Archaeological museum is built was discovered and excavated in 1967, covering an area of 700 square metres in total. It is located on the banks of what was formerly..
Live Articles : 8
For more articles select a Page or Next.
Contact Murcia Today: Editorial 966 260 896 / Office 968 018 268