ARCHIVED

- 30th April to 4th May, Feria de Sevillanas, Santiago de la Ribera
Music, tapas, and dancing Sevillanas style
Santiago de la Ribera is hosting its annual "Sevillanas Feria" this next weekend, to co-incide with the May holiday.

These Spring ferias are taking place across Spain and are happy, colourful, as Spanish as it gets, and thoroughly enjoyable to attend.

There are eight different barracas, or outside bars set up, selling tapas and beer, with festive sevillanas music playing as well as live musical and dance performances and general dances which everyone can join in with.
The casetas will have a range of gastronomic goodies on offer, including Caldero on the days on which the Feria is open from 12 midday to midnight.

Sevillanas is the traditional dance of the fiestas and is often mistaken for flamenco , as most of what is served up in tourist bars worldwide is called flamenco although if the truth be told its neither flamenco nor sevillanas. Flamenco really is a much deeper more emotional dance, a dance of pride, defiance, suffering, humiliation and frustration, an outlet for the gypsy population who were treated with disrespect and misunderstanding throughout their history, deprived of education, herded into ghettos and denied basic human rights.

But sevillanas is a different dance altogether. This is a dance of celebration, of fiestas, of happiness, and once ex-pats have got over their shyness of going along to one of these most Spanish of events, theyre there grinning from ear to ear, and loving the music, the atmosphere and the sheer "spanishness " of it all.
If youve not seen sevillanas before, its strutting , clapping, posing, swirling coloured dresses and REAL men, proud, arrogant, macho, grabbing their women around the waist and showing off for all theyre worth.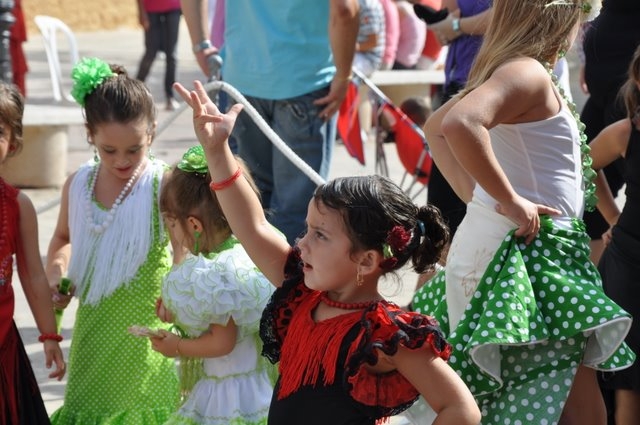 Its a dance children learn from an early age and its heartwarming at these Sevillanas celebrations to see children dressed up whilst still babes in arms, and the old boys getting stuck in there with all the youngsters enjoying the dancing.

Everyone dresses up for Sevillanas, the ladies in their tight swirling dresses, with shawls, headcombs and flowers in their hair, and the men with their dapper hats and short jackets, and even the dogs have flowers in their hair!

The format is very informal, theres always food and drink in the form of a bar and tapas on offer, therell be music going and the dancers come and go as they please. In this Feria there are some formal performances at 11pm and a traditional sung mass on the Sunday night. It will be busier at the weekend than the Friday, Sunday lunchtime will be very busy and the lunchtimes will be busier at peak times, so therell be more people dancing, but wander down, enjoy a drink and a bit of tapas and treat it as a big open air bar with some dancing going on and enjoy.

This event is taking part in the Principe de Asturias park, behind the tourist office and theres no charge, you only pay for what eat or drink.

Click for map, Parque Principe de Asturias, Santiago de la Ribera.

Programme 2014:

Wednesday 30th April
21:30pm. Inauguration and opening of the recinto
23:30pm. Performance of the ballet flamenco, "Jesus Quiles" with their spectacular, Retales de Lunares
00:00 midnight. Salve Rociera. ( a form of song) followed by music and dancing

Thursday 1st May
11am Romería Rociera ( parade) with horses and carriages
12:00 Opening of the recinto
19:00pm Celebration of the International day of dance with performances by the different dance schools of the region

Friday 2nd May
12 Midday. Opening of the recinto and casetas.
23:00pm Performance of the rumba and sevillanas group, Los Duendes
00:00 midnight. Salve Rociera. ( a form of song) followed by music and dancing

Saturday 3rd May
12 Midday. Opening of the recinto and casetas.
23:00pm Performance by the Coro Rociero " Romero y Jara"
00:00 midnight. Salve Rociera. ( a form of song) followed by music and dancing

Sunday 4th May
12:00 midday Opening of the recinto
12:00 Midday. Children's spectacular, Canta Baila"
20:00pm Traditional Misa Rociera, a sung mass, performed by the Rondalla Santiago Apostól
00:00 midnight. Salve Rociera. Followed by close of fiestas.

More information about the San Javier municipality in the dedicated San Javier section, accessed via the map box at the bottom of every page.



revspart
Contact Murcia Today: Editorial 966 260 896 / Office 968 018 268