Date Published: 03/09/2021
ARCHIVED

- Mazarron resumes preventative spraying to combat mosquitos
The council has been working in various areas of the municipality including the outlying urbanisations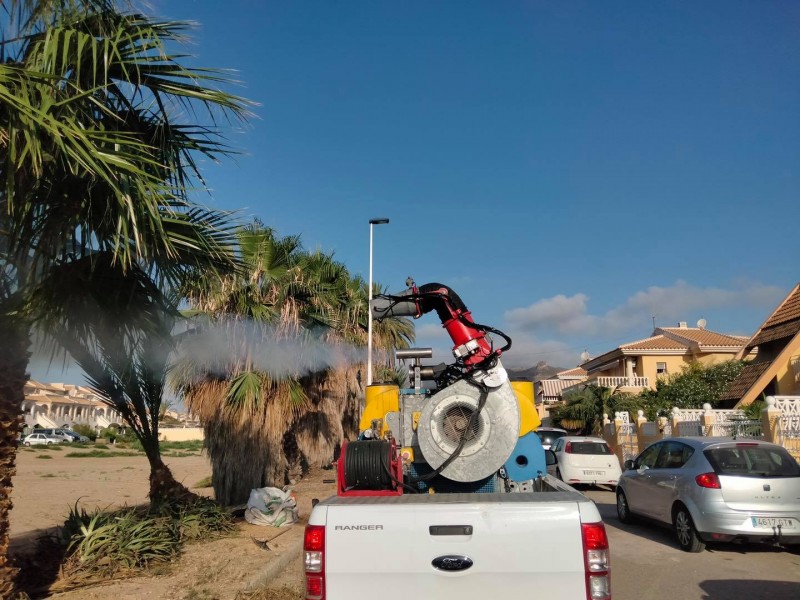 This year the Murcia Region, as well as other neighbouring provinces including Alicante, experienced significantly wetter conditions than normal this spring, leading to a proliferation of mosquitos, including the tiger mosquito.

Many of our regional town halls have undertaken two-phase spraying, starting with a larvicide and following up with an insecticide, hoping to limit a population explosion.

Spraying in the spring successfully kept mosquito numbers down, but the autumn rains inevitably increase the population once again, so spraying has resumed.

In Mazarrón the council has been particularly focusing on the residential coastal areas of Bolnuevo along the coast to El Alamillo, via Playagrande, the Bahía area and the Puerto de Mazarrón port area and is also ensuring that outlying urbanisations are included in the programme.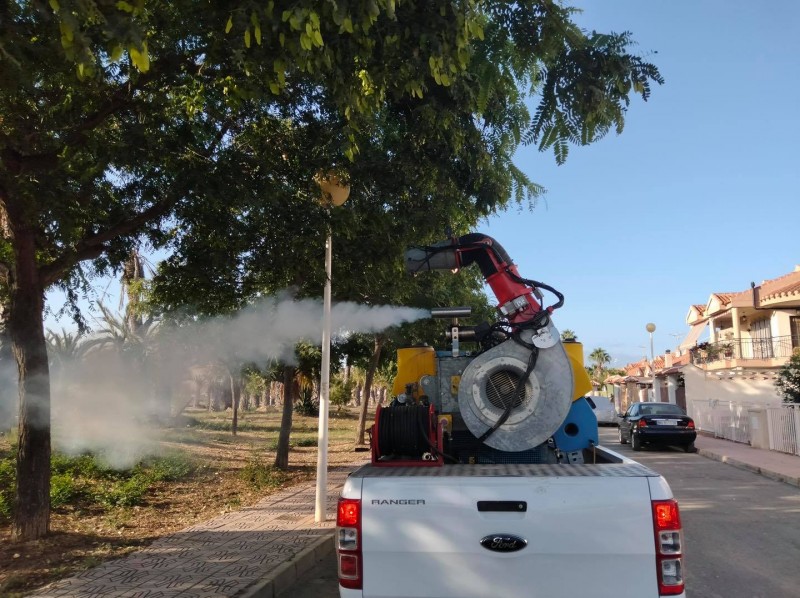 More about the tiger mosquito
Last summer the Public Health department reported that larvae of the Aedes albopictus species had been found in 31 of the 45 municipalities in Murcia, just 14 years after the insect was first sighted in Spain, in the region of Catalunya, and this is the only species in the country capable of transmitting dengue to humans.

It is widely accepted that it is practically impossible to eliminate the invasive insect species from Murcia.

This mosquito is particularly bothersome as it feeds during the day and is known as the forest day mosquito in some areas of Asia for this specific reason. The males feed on nectar and plant juices, but the females require blood in order to develop their eggs and will bite human hosts more than once.

Their bite is not noticeably different to that of other mosquito species, but they will bite multiple hosts including species of birds and mammals, which is why they are viewed as being more dangerous than other mosquitoes as they can transmit disease through this process, the technical phraseology for this being that the mosquito acts as a bridge vector for pathogens which can jump species boundaries( ie from one species to another).

Control of Tiger Mosquito populations
The tiger mosquito season normally lasts from May until September or October in Spain, although the peak month here is July, and breeding will take place near water. Water is an essential element of the larval development process, and as the Asian Tiger Mosquito has a relatively short flight range of only 200 metres, this means the areas where it is most widely found are near to a water source of some kind.

The female lays her eggs close to water, not directly in it, but only requires a tiny amount of water in which larval development can take place, so can easily breed in as little as an ounce of water.

The normal process is to lay her eggs just above the water line in a container or location where water pools: when it rains the eggs are covered with water and hatch, hence the most effective means of control is to ensure water is cleared away quickly after rain.

Although it can breed in running water, this is rare, and it prefers small pools of stagnant water. These are often found near to humans in artificial containers such as discarded water bottles, animal water buckets or drinking bowls, or containers filled for watering purposes which have not been sealed.

It also loves swimming pools which have not been emptied and left to go green. It's quite common for households to find some sort of container beneath foliage in the corner of the garden which has filled with rain during a Winter storm and has remained damp enough for nesting, so for this reason it is possible for all of us to take some simple steps to help combat the spread of the species in Spain.

It takes 10-14 days for adult mosquitos to emerge from pupae.

It is "almost impossible" to completely eradicate the mosquito, according to specialists, but the population can be held in check.

Among the measures recommended are the following:
- Don't leave excess water standing in saucers after watering pot plants or put fine sand in the saucers to prevent eggs being laid
- Flush water through drains at least once a week
- Constantly empty, wash and re-fill pets' drinking bowls or animal water troughs
- Check sagging drains, guttering, pipes or locations in which water could collect
- Avoid leaving stagnant water of any sort in the garden as it is a breeding ground, so check tyres lying outside which could contain water after a storm( the mosquito is believed to have arrived in the US inside tyres), pots, containers as even the smallest accumulation of water can be an attractive breeding ground for this and other types of mosquito
- Empty unused swimming pools, ponds, wheelbarrows and buckets

Contact Murcia Today: Editorial 966 260 896 / Office 968 018 268