Date Published: 12/11/2021
ARCHIVED

- San Clemente fiestas 2021 in Lorca: November 12 to December 4
The programme for the festival includes many free events to celebrate the Murcia town's patron saint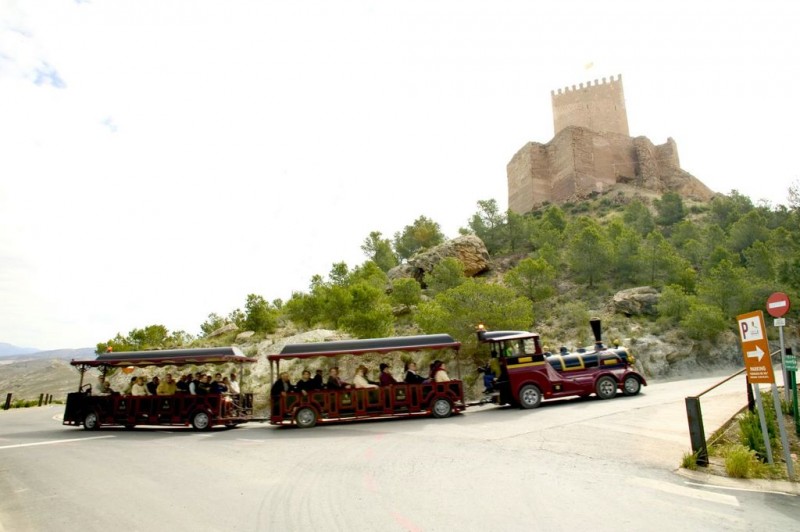 Lorca
has announced the programme of events for the festivities in honour of the patron saint of the city, San Clemente, from November 12 to December 4 2021.
The Mayor of Lorca, at the opening ceremony, announced how "excited" he was at the return of "these festivities, declared of Regional Tourist Interest since 1995, [which] will be held in our city, recovering that long-awaited normality after last year's program had to be suspended as we know it." At the same time, he stressed that "the virus is still with us and that is why we cannot lower our guard."
Here is the full programme of events during the festival:
Friday November 12, 8.30pm: San Clemente Parade from the Muralla to Plaza Calderón
Saturday November 13, 12.30pm: Guided tour of San Patricio
Saturday November 13, 5pm: XLIII Cross Patron of Lorca and XXXV Ascent to the Castle, leaving from Plaza de España
Sunday November 14, 11am to 1pm: Open Day in the area of La Merced by members of the Lorca Museum of the Medieval History.
Monday November 15, 5pm to 7pm: Food bank and warm clothes collection in the Alameda de la Constitución for the Spanish Red Cross charity.
Monday November 15, 8pm: Free art exhibition 'The Three Cultures' in the Centro Cultural Espín.
Wednesday November 17, 8.30pm: Historical talk "Alfonso X and Lorca" Enrique S. Pérez Richard in the Church of Santa María La Mayor.
Thursday November 18, 8.30pm: Floral Offering to San Clemente, patron saint of Lorca, at the Church of San Patricio.
Friday November 19 to Sunday November 21, from 11am to 2.30pm and from 5pm to 11pm: Medieval Market in the Plaza de España, Calle Álamo, Calle Santiago, Calle Cava, Calle Juan II and Plaza San Vicente.
Saturday November 20, 12.30 pm: Guided Visit to the Sanctuary of the Virgen de las Huertas and the Caliphate Palace. Booking in advance is essential at www.lorcatallerdeltiempo.es.
Saturday November 20, 5.30 pm: Grand Parade of the Medieval History of Lorca, years 713 to 1488, departing from the Oval of Santa Paula, Avenida Juan Carlos I to the Palacete Huerto Ruano.
Saturday November 20, 7pm: 15th National Folklore Festival "Ciudad del Sol" at the Teatro Guerra. Admission is free until full capacity is reached.
Saturday November 20, 10:30pm: Free concert by Landevir, a Spanish folk metal band with power metal and Celtic rock influences, founded in 1998 in Elda (Alicante), in the Huerto de la Rueda venue.
Sunday November 21, 11am to 1.30pm: Open day at the Church of Santa María la Mayor by members of the Museum of Medieval History of Lorca. There are guided tours for small groups every half hour where you can learn about the renovations to this emblematic medieval temple and its imminent conversion into the Medieval Museum of Lorca.
Monday November 22, 9pm: Ascent of the Torches to Lorca Castle, leaving from the district of San Cristobal, going through the Plaza de las Hortalizas, Plaza de la Estrella, Puente de la Alberca, streets Santo Domingo, Lope Gisbert, Pio XII, Selgas, Plaza de España, medieval Church of Santa María la Mayor and up to the Castle.
Tuesday November 23, Saint Clement's Day (El Día de San Clemente), 12pm: Free events at Lorca Castle, including a reenactment of the capture of the Castle by the Christian Hosts over the Muslim Kabylas at 12pm. At 12.30pm, the Act of Capitulation will take place in the parade ground of the Castle.
Tuesday November 23, 1pm: Medieval Tournament in the Castle parade ground where several medieval knights will fight with courage and gallantry for recognition in the skill of the weapons used in medieval times.
Tuesday November 23, 2pm: Lunch of rice. For each plate of rice, a donation will be made to benefit the Spanish Red Cross, Local Assembly of Lorca.
Saturday December 4, 6pm: Hanukkah 2021 in the Synagogue of the Castle.
Saturday December 4, 7pm: Concert by the "Dúo Hispania", organised by the Department of Tourism.
Image: Lorca Turismo
Address
Plaza de Espana, 30800 Lorca
Tel: 968 441914 (Fax 968 466157)

Oficina de Turismo de Lorca
To go to the dedicated Lorca section, Click Lorca
The rich and extensive history of Lorca has left a legacy of archaeological sites, and historic buildings, around which the modern City has built its tourism industry. Amongst these are Lorca Castle, the Jewish Quarter of the castle and Synagogue,
Plaza de España, Colegiata de San Patricio, Museo de Arqueologico Municipal, Iglesia de San Francisco, Casa Huerto Ruano, Palacio de Guevara, Iglesia de San Mateo, Pósito de los Panaderos, Convento Virgen de las Huertas, Antiguo Convento de la Merced, Iglesia del Carmen and the Teatro Guerra.
Unfortunately Lorca has also been prone to natural disaster, suffering a Gota Fría on September 28th 2012, as well as an earthquake which measured 5.3 on the Richter scale on 11th May 2011 and claimed 9 lives. Since this earthquake the city has been rebuilding, winning recognition for its Lorca, Open for Restoration initiative, which used the restoration of the city as a tourist attraction whilst it rebuilt its historical buildings, some of which are currently still not open.
The tourist office itself has temporarily relocated until the renovations are completed and is inisde the Antiguo
Convento de la Merced on the outskirts of the city beside the river where there is ample parking (paid parking).
Lorca also has an area of coastline incorporating the Parque Regional de Cabo Cope - Puntas de Calnegre, in the Sierra de Almenara, which includes the beaches of, Puntas de Calnegre, Baño de las Mujeres, San
Pedro, El Siscal, Cala Honda, Cuartel del Ciscar, Junquera, Cala de la Gruta, Cala Leña, Los Hierros, Cala Blanca and Playa Larga, although many are accessible only through agricultural exploitations.
However, in spite of its many attractions, the name of Lorca is synonymous with Easter, (Semana Santa) its biblical parades of International Tourist Interest status and famous throughout Spain. The week includes a
series of parades in which the whites (Paso Blanco) and blues (Paso Azúl) try to outdo each other with the magnificence of their embroideries and the skill and daring of their horsemen.
Lorca also has a Parador hotel, located within the complex of its historic castle.
Opening hours for Lorca Tourist Office:
Monday to Friday, 10.00 to 14.00 and 16.30 to 19.00. Saturday 10.00 to 14.00 and 16.30 to 18.30. Sunday 10.00 to 14.00.
Click for map, Lorca Tourist Office (NOTE: as of October 2015 both the Tourist Office and Lorca Taller del Tiempo are sharing temporary offices in a rehabilitated fragment of the old city wall at the entrance to the car park, due to imporvements being made to the car park and restoration work inthe Convento itself. The temporary office is just a few metres from the normal one, and opening hours are unaffected).
Contact Murcia Today: Editorial 966 260 896 / Office 968 018 268