Date Published: 08/09/2021
ARCHIVED

- Bullas Wine Fiestas September 17 to October 3 2021: activities must be pre-booked
These activities include a guided visit to the Los Cantos Roman Villa site, wine-related tours in the Bullas municipality and artisan market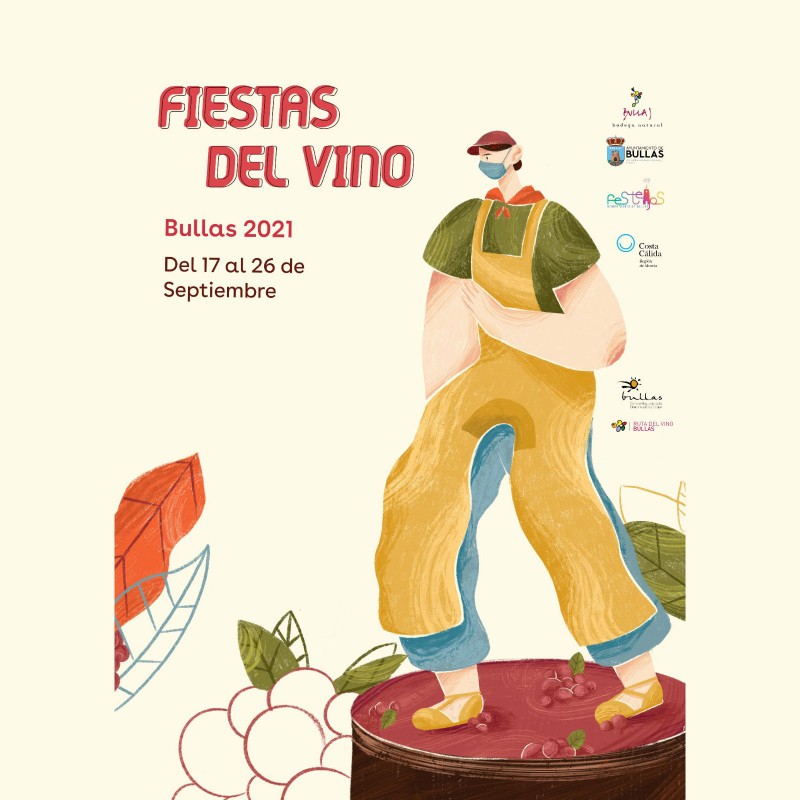 Museo del Vino de Bullas (968 657 211) Click for more information about the Museo del Vino de Bullas
Please note: due to Covid restrictions it is essential to book if the info below indicates that booking is required as the number of participants is limited for each activity.
Bullas holds the main activities of its annual Fiestas del Vino around the fiestas patronales which take place in the municipality each autumn, celebrating the start of the new harvest and the wine-making traditions of the D.O Bullas.
The Fiestas del Vino includes guided tours, gastronomic demonstrations, exhibitions and a number of family activities over two weekends, with prior registration required for the activities this year, principally because of the ongoing limitations caused by the pandemic.
All tours require pre-booking and are in Spanish, although the wine tours are highly visual and usually involve joining in with the work of the harvest.
The fiestas end on October 3, with the El Zacatín artisan market featuring wine as its principal area of interest.
Bullas Wine Fiestas September 17 to October 3 2021

FRIDAY SEPTEMBER 17 20:00. Exhibition 'Posters of the Bullas Wine Festival. XX Anniversary' From September 17 to October 10 Place: Wine Museum
21:30. VINESTHESIA. Wine tasting and music. With the participation of sommelier Andrés Gómez from LA DILIGENTE, tapas by Chef Cánovas and the flamenco group by percussionist Alejandro Solano; together with the collaboration of the wineries belonging to the Bullas Wine Route Place: El Jaraíz (esplanade in front of the Wine Museum) Fee: € 25 (limited places) Information: 968 657 211
SATURDAY SEPTEMBER 18 10:00. Harvesting with Bodega Monastrell Includes: grape harvest workshop in the vineyard, visit to the Monastrell Winery facilities, wine tasting and wine pairing in the winery with the collaboration of El Castillico Restaurant Outdoor activities and anti-covid security measures according to current regulations Place: Aceniche Valley Meeting point: Wine Museum Limited places Fee: € 55 (children: € 25) Information: 968 657 211
10:30. Free guided visits to the Bullas Wine Museum - Visits to the permanent exhibition (11:00, 12:00 and 13:00) - Visits to Temporary Exhibition 'Posters of the Bullas Wine Festival' Place: Wine Museum Reservations: 968 657 211
20:30. MALVARICHE in concert 'Abonico' Place: La Almazara (in front of the Wine Museum) Admission: € 12 Information: 968 657 211
SUNDAY SEPTEMBER 19 11:00. Wine pairing at Bodega Balcona Includes: tour of the vineyards and visit to the Balcona Winery facilities, wine tasting and wine pairing in the winery's surroundings Outdoor activities and anti-covid security measures according to current regulations Place: Aceniche Valley Meeting point: Wine Museum Limited places Fee: € 55 (children: € 25) Information: 968 657 211
FRIDAY SEPTEMBER 24 20:00. Inauguration of the exhibition 'Poetics of Duel' by María Gea From September 24 to October 31 Place: Temporary Exhibition Hall of the Wine Museum By reservation: 968 657 211
SATURDAY SEPTEMBER 25 11:00. Wine pairing at Bodegas Lavia Includes: tour of the vineyards and visit to the Bodegas Lavia facilities, wine tasting and wine pairing in the surroundings of the winery Outdoor activities and anti-covid security measures according to current regulations Place: Aceniche Valley Meeting point: Wine Museum Limited places Fee: € 55 (children: € 25) Information: 968 657 211
SUNDAY SEPTEMBER 26 10:30. Open Day at the Bullas Wine Museum - Free guided visits to the permanent exhibition (11:00, 12:00 and 13:00) - Guided visits to the Temporary Exhibition 'Poetics of Duel', by its author María Gea Place: Wine Museum Reservations: 968 657 211
12:00. Harvest Day – Switching on of the Wine Fountain - Blessing of the first grape mosto - Performance of the Peña La Uva Place: Plaza de España
SUNDAY OCTOBER 3 10:30. Free guided visits to the Roman Villa of Los Cantos Place: Roman Villa of Los Cantos Meeting Point: Wine Museum. Free activity with prior reservation (until full capacity is reached)
The Zacatín. Local Crafts and Products Market On this occasion dedicated to the world of wine and sale of D.O.P. Bullas wine with other artisan crafts. Control of capacity and security measures in force Place: Plaza Vieja in the centre of the town

Contact Murcia Today: Editorial 966 260 896 / Office 968 018 268