Date Published: 03/01/2022
ARCHIVED

- House prices in Spain rose by 4.3 per cent on average in 2021
The Spanish housing market is set to shoot up a further 4% in 2022
The average price of new and used housing is estimated to have closed 2021 with an increase of 4.3%, according to statistics from the valuation company Tinsa and approved by the Bank of Spain.
In addition to this significant increase, another increase of 4% is expected in 2022, according to forecasts by property experts in Spain from such real estate portals as idealista.
Caixabank forecasts, based on the most recent available data from January to November of last year, that 2021 is due to close with some 545,000 property purchases, a figure not seen in Spain since just before the financial crisis of 2008. Furthermore, the year-on-year increase in house prices in the fourth quarter of 2021 alone reached 8.6% compared to the same quarter of the previous year, showing a definite upward trend across the year.
Cristina Arias, director of the Tinsa Research Service, said, "The last quarter of 2021 saw an increase in residential market prices that consolidates the trend started in previous quarters and reflects an environment of growth in which demand is higher than supply and construction is beginning to reactivate cautiously, which could be indicative of an upward phase in the real estate cycle."
Because of this, experts are advising that now is a good time to buy property in Spain, whether to live in or as an investment to be sold on in the future.
Why are property prices going up in Spain?
These increases in the cost of real estate in Spain are partly due to the lack of supply in areas where there is more demand, like Madrid and Barcelona, whereas the places where there are more empty properties are not in demand at all. The rise in raw materials will also have an impact on house prices in 2022, as will the global supply chain crisis.
Finally, the Covid pandemic has contributed to these changes in house prices and sales data, with people saving money on travel and leisure activities during the months of confinement and restrictions, meaning they have more disposable income to spend and an increased desire to purchase property with outdoor spaces like balconies and gardens.
House prices are actually falling in northern and inland Spain
Despite the general rise of 4.3%, there were in fact some moderate decreases in 11 Spanish provinces. For example, there was a slight drop in prices in Soria (-0.5%), León (-1%) and Cáceres (-2%), and more marked decreases in Ourense (-6.9% in 2021) and Palencia (-5.9%).
On the other hand, in the most populated areas, housing prices rose considerably. In Madrid capital city, for example, 5.8%, while the city of Barcelona saw price increases of 2.9%. In Bilbao, housing prices rose by a whopping 13.7%, in
Valencia
by 4.2% and in
Seville
by 6.2%.
Images: Archive
Address
El Valle Golf Resort Banos Y Mendigo 30155
Tel: 00 34 654 431 052

Property sales for El Valle, Lo Santiago and Golf resorts in Costa Calida
Spanish Homes 4 U has been run by Andrew Leach, based on the El Valle Golf resort in Murcia since 2006. As a full-time resident, living and working 'on site', Andrew is ideally placed to offer an expert property sales and rentals service for El Valle and other nearby golf resorts, many of which were designed and built by the Polaris World group.
El Valle Golf Resort
Set against a mountain backdrop with views towards the coast, the El Valle Golf Resort is considered to be one of the most exclusive Polaris developed resorts in the area and has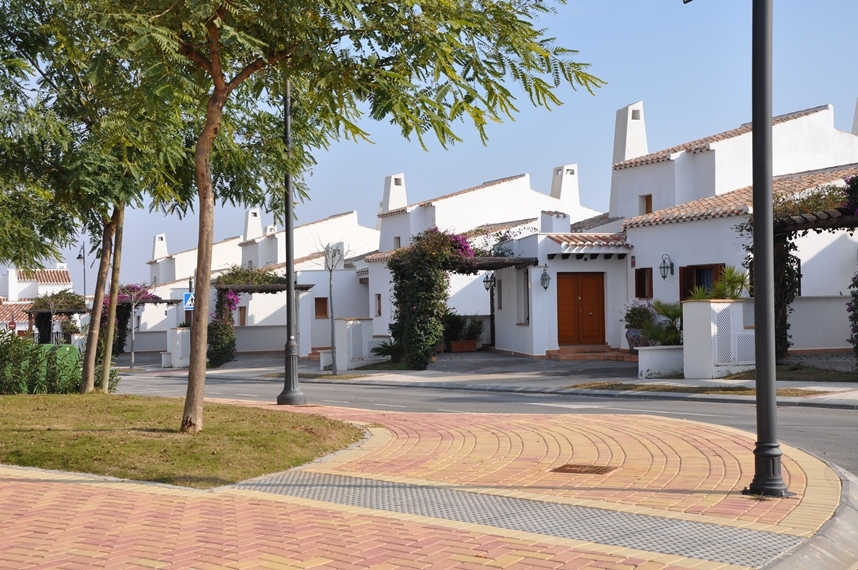 received praise, not just for its golf course but also for its layout and user-friendly desgin. Secure, luxurious and set in naturally landscaped public areas, El Valle is close to both San Javier and Corvera airports, less than 20 minutes from the region's capital city and only a few minutes more from historic Cartagena. What's more, the Balsicas railway station with high speed links to Madrid, Barcelona and Valencia is 10 minutes away.
Lo Santiago
Lo Santiago offers a choice of luxury villa properties near to Murcia city, but only 15 minutes from the beautiful beaches around the mar Menor.
Built around 2007, this popular resort has plenty of permanent residents and on-site bar and restaurant, open 7 days a week, with local shops just a 5-minute drive away. The resort is secured with a barrier entry system and CCTV.
Exclusive Property Sales
Spanish Home 4 U offers a full sales service with strong links to promoters, banks and local lawyers, allowing them to pass on special deals and offers to customers. In fact, on some new properties, the company has a contractual right to sell at lower prices than any other sales agent in the world, so it really is impossible to find it cheaper elsewhere.
Rentals
For holidaymakers, Spanish Home 4 U are able to arrange rentals to fit all budgets and
vacation plans. Whatever you're looking for – your own golf tour, sunbathing on the beach (the Mar Menor is just 20 minutes away) or a cultural trip around the region's Roman ruins, national museums and Moorish architecture – Murcia caters for all tastes. Spanish Home 4 U can provide the perfect property as a base from which to experience these varied offerings, while also offering expert advice that will make your holiday an unforgettable one.
Pool Services
Many of the villas on El Valle and other golf resorts come with their own private pool and Spanish Home 4 U offer a full specialist maintenance service. Keeping a pool clean, clear
and healthy requires some know-how so that it's ready for owners to enjoy without worry, whenever they want. Andrew can arrange annual maintenance contracts, pre-season checks, ongoing maintenance and level monitoring; all as part of the after sales service.
As a 'One Stop Shop' for El Valle property, Spanish Home 4 U take care of all your purchase or rental needs. Plus, as a local resident, Andrew possesses an in-depth knowledge of the area and its facilities and attractions - sharing that knowledge with the customer is all part of the service when dealing with Spanish Home 4 U.
Contact Murcia Today: Editorial 966 260 896 / Office 968 018 268