The cave houses of San Miguel de Salinas
These offered practical and cheap accommodation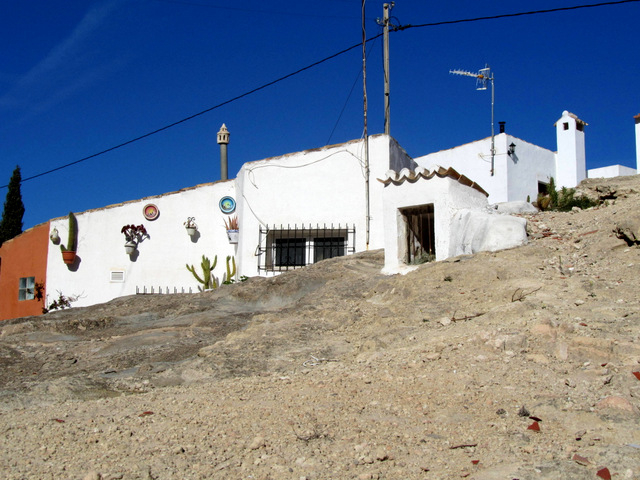 There are two areas of cave houses dug into the rocks in San Miguel de Salinas, the main one being located in the area known as Primero de Mayo. These typical homes even have airways and chimneys which protrude unexpectedly out of the hillside above them!

A description of San Miguel de Salinas written in 1848 mentions "22 huts of reed and wood and 77 caves in the rock", and historically these latter were occupied by the lowest paid workers in local agriculture (which in the past was practically the only activity in San Miguel's economy). Geologically they are the result of layers of soft sandstone having been eroded in between harder rock strata, and for poor farm workers these represented an obvious way of finding accommodation without having to pay for it.

The soft rocks could be chiseled out with simple tools to expand any natural hollows, and many became quite
large over the years, with ventilation shafts making living conditions more than bearable. Most of them were made into homes by expanding natural cavities to an acceptable height and creating a frontage, which could then be walled off. In many cases the rocks dug out were then relaid to form a terrace in front of the house, and as the years went by they were enhanced by the addition of beams, doors, tiles and ceramics.
These houses were surprisingly practical, remaining cooler in the summer and warm in the winter.

The habitability was further enhanced by the construction of "aljibes", or water storage cisterns. These have been dug down into the rock and lined with cement, and although the quality of the water stored there would probably not be sufficient for most of us today, in the past they were adequate for the cave dwellers.
Some of them have now been converted into arts and crafts shops and artists' studios, and one of the largest is a family-run restaurant. The area has been given a facelift by the Town Hall, and there is also a pleasant park along the circular route around this quiet but fascinating part of San Miguel.
This type of home is very widespread further along the coastline and heading into Andalucía, offering
characterful accommodation with a real sense of history.

How to get there: The Barrio Primero de Mayo is located at the southern end of the town of San Miguel de Salinas. If approaching from Torrevieja on the CV-95, turn left into San Miguel on Calle Torrevieja and simply follow it up the hill. Where the road veers left at the brow of the hill, the cave house area is on the right.
If approaching from Orihuela Costa on the CV-941, turn right almost as soon as you enter San Miguel de Salinas on Calle Miguel Pérez, and the cave houses are on the left, just past the old tower, after 100 metres or so.

If approaching from inland on the CV-95, the best option is to overshoot the town slightly and enter from the eastern end as if coming from Torrevieja.

Contact Murcia Today: Editorial 966 260 896 / Office 968 018 268