Torre del Reloj, Calasparra
The clock tower, Calasparra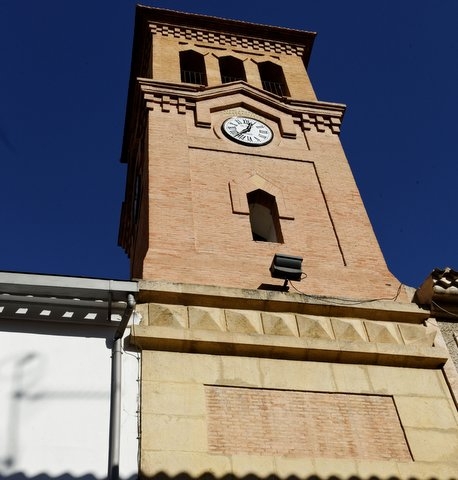 This tower was first built in an era when only the very wealthy were able to afford watches and clocks, farmers living their lives by the position of the sun and the hours of daylight throughout the year.
Life was controlled and regulated by the Order of san Juan, ( see History of Calasparra) to whom Calasparra belonged, controlling all aspects of the spiritual and physical wellbeing of the farming population, including the control of irrigation water.
Water was timed in and out of the fields, the time allocated to each farmer measured, the signal to open and close sluice gates dictated by the bells in this tower, the construction having a curious 3 skin system to soundproof the tower from the noise and vibrations of the ringing bells.
The first known reference to the Torre del Reloj comes from the minutes of a chapter meeting in 1609. The tower was part of a project to extend the length of the Calle Mayor, and during the rest of the century the town's streets were widened and attention was paid to improving the outdoor public areas in Calasparra.

By 1718 the building was almost in ruins, and restoration work was undertaken. Just two years later further work was required, possibly because of low quality materials having been used in the original construction, leading to its hasty deterioration.
In the early 20th century Juan Ruiz Urreal, the Mayor of the municipality at the time, commissioned the architect Pedro Cerdán Martínez, of the Real Academia de San Fernando, to examine the condition of the tower. Cerdán Martínez certified on 17th September 1902 that the structure had deteriorated, and the necessary restoration work began. This included the demolition of the top two sections of the tower, which was carried out by Juan Piñero Miralles and Francisco Álvarez García.

There is still a plaque on the first section of the tower, commemorating the end of the restoration project, reading "This tower was rebuilt in the year 1905, when the Mayor was Gabino Ruiz Soler".
The clock currently in the tower was paid for by Joaquín Payá y López, the manager of the iron mines in Cehegín, under the conditions of the contract with the Town Hall of Calasparra by which a cable car transport system was set up, bringing minerals from the mines to the railway station in the town.
The tower's appearance has not changed substantially since the reconstruction in 1905, although in 1996 the Town Hall spent 300,000 pesetas on restoration, cleaning and repairing the clock itself.
The clock is virtually opposite the tourist office and Casa Granero.
Contact Murcia Today: Editorial 966 260 896 / Office 968 018 268