Date Published: 20/09/2021
ARCHIVED

- Volcano erupts in Canary Islands, Spain
The lava flows in La Palma have forced 5,000 people to be evacuated, including 500 foreign tourists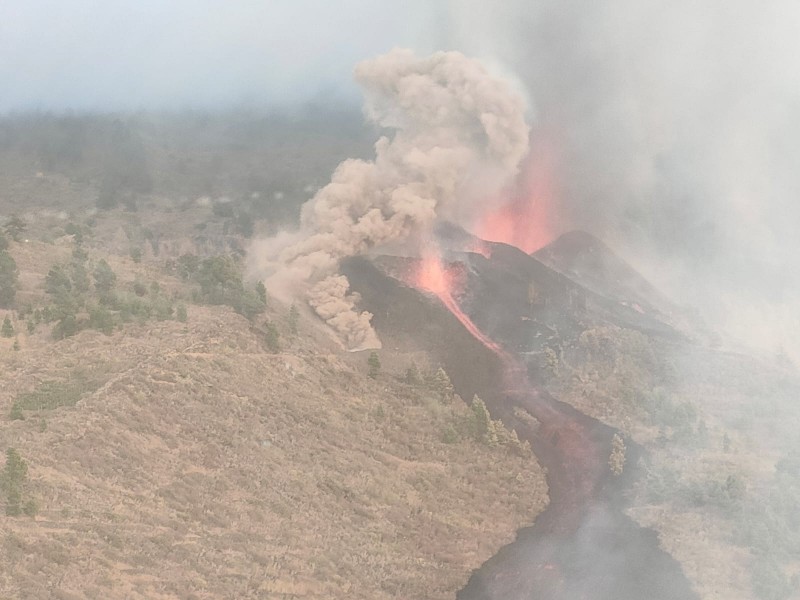 So far, eruptions of smoke and lava have been detected from seven different craters, all of which lie along a fault line several kilometres long. Dramatic images of the red, hot lava flowing down the mountainside have been shared on social media.
Los medios aéreos de la ⁦@guardiacivil⁩ llevan todo el día aportando sus capacidades en la zona

Así se veía esta tarde la #ErupciónLaPalma desde uno de sus helicópteros pic.twitter.com/SStLj1Fiqk

— Ministerio del Interior (@interiorgob) September 19, 2021
No one has been injured or killed in the eruption, but eight houses have been affected as the 20 million cubic metres of lava flow down towards the coast. Most people on the island of Santa Cruz de La Palma, as it is formally known, live in coastal areas. Until now, the lava has mainly affected uninhabited areas full of banana plantations but authorities say the advance of the lava runs towards the coast is "worrying".
Geologists and volcanologists predict that there won't be any more craters erupting, though there may be "a few more fissures in the ground". All airports in the Canary Islands are still open, though some schools and business have been forced to close. The Hospital de La Palma, meanwhile, is preparing receive anyone injured by the volcano.
Está pasando. Erupción volcánica en La Palma pic.twitter.com/l9Ilc3dYj4

— Puerta de Tannhäuser ❁ (@JaviTannhauser) September 19, 2021
Of the 5,000 people evacuated from their homes as a precautionary measure, 500 are foreign tourists staying in hotels on the island. Spain's president, Pedro Sánchez, arrived on the island this morning for an emergency meeting, and has assured everyone in the Canary Islands that their "safety is guaranteed".
The Canary Islands, which are located in the Atlantic Ocean off the western coast of Africa and are a popular holiday destination for British, Scandinavian and German tourists, lie on the boundary of a tectonic plate. Seven of the islands have volcanoes and small earthquakes are frequent, but eruptions are rare. The last time a volcano erupted on the island of La Palma was fifty years ago, when the Teneguía volcano caused widespread destruction in 1971.
En La Palma hay 4 carreteras afectadas por la erupción de un volcán.

LP212, LP105 y la LP301 en El Paso.
LP214 en Los Llanos de Aridane.

La LP-212 ha sido atravesada por la lava, en el Barrio de Alcalá. #ErupciónLaPalma pic.twitter.com/uGF6jmo39D

— Guardia Civil 🇪🇸 (@guardiacivil) September 19, 2021
📹Imágenes tomadas esta tarde por el avión de coordinación y observación (ACO) @mitecogob en la zona de la #ErupciónLaPalma para la monitorización y el seguimiento de la actividad volcánica pic.twitter.com/TZ9x5qDV3h

— 1-1-2 Canarias (@112canarias) September 19, 2021
Further update: the ash cloud reached 2000m altitude at about 20.00 local time, roughly the altitude of the telescopes. Not sure about wind direction at the moment. And: pic.twitter.com/qnpsQzD8Dj

— Scott Trager (@SCTrager) September 19, 2021
The lava with its high temperatures destroys the houses and streets in the area in La Palma of Canary Islands in Spain. pic.twitter.com/DpqU86txDr

— Sanjeev Choudhury🇮🇳 (@intenceroselove) September 19, 2021
Image: Guardia Civil
Contact Murcia Today: Editorial 966 260 896 / Office 968 018 268