ARCHIVED

- 10th August, Carmen Linares at Cante de las Minas La Union
One of the top flamenco singers in Spain at Cante de las Minas
Sunday 10th August
11pm, Carmen Linares with Remembranzas
Carmen Linares is one of the great female voices of Spanish flamenco, her voice pure and unforgiving, making her a great favourite with aficionados who favour the purer lines of flamenco cante. For this reason, this is less of good bet for flamenco novices, but a luxury for those with a taste for the true intensity of flamenco.
Tickets 55, 28, 18 and 13 euros
More information about Cante de las Minas La Unión 2014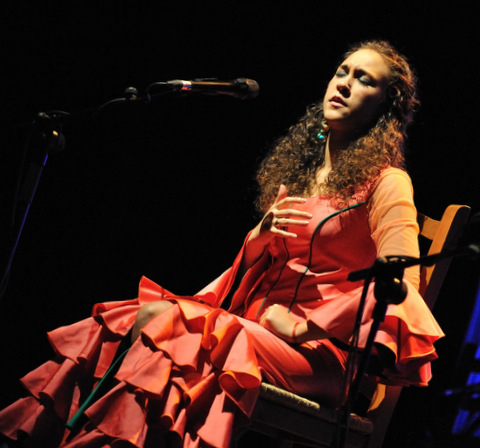 The 54th International Festival of Cante de Las Minas in La Uníón continues to consolidate its position as one of the most important flamenco festivals in Spain, offering a combination of top flamenco galas with an annual competition to find the most promising Flamenco artists in the disciplines of singing, dancing, guitar and percussion.

The festival galas and competitions are accompanied by a series of Flamenco-related events and the thousands of people attracted by the event are also offered a gastronomic experience by the local bars and restaurants, as well as other cultural activities.

The musical events all take place in the Catedral del Cante, the former indoor market hall in La Unión, an attractive modernist building which gives a special atmosphere to the proceedings, surrounded by trade stalls selling flamenco CD's and memorabilia, tapas bars and artworks.

It's a busy, vibrant atmosphere, and enjoying a bit of tapas and a beer afterward part of the whole experience, many of the bars with music continuing until the early hours.

Flamenco is an unknown world to many expats, the tourist flamenco scene in bars along the Costas bearing no resemblance whatsoever to the true world of flamenco, which is a world of deep intensity, passion and artistic virtuosity, but a world which is hard for our ears to adjust to, as the rhythms, vocal tones and style of music are so unfamiliar to our ears.

However, some of the artists featured in the galas here cross into the world of flamenco fusion, and those who achieve mainstream success have their own styles, blending flamenco with other types of music to create a wider audience, bringing the essence of flamenco into mainstream popular music.
Dance is another means of crossing from pure flamenco, and is generally an easier in for those wishing to experience flamenco.

Tickets in the main galas are pricey, as the artists here are top International artists, but the wings are cheaper, and the competition nights also offer a good cross section. Sometimes these can be really exciting, it all depends on the artists: last year the standard was outstanding and the competition nights were thoroughly enjoyable, and sometimes there are just too many "mineras" for comfort, but they're worth coming to if starting a journey to explore Flamenco.

If you want just a taster, come on the inaugural night and see last year's winners who were all superb: this is the only night entrance is free, although there's quite a bit of formal presentation to sit through as well.

Ticketing information:
Tickets can be purchased from Corte Inglés ticketing, via their web www.elcorteingles.es or Telephone sales Corte Inglés : 902 400 222
Alternatively from the Tourist office of La Unión, La Oficina de Turismo de La Unión, between 10am and 1pm Monday to Friday.
Casa del Piñon
Calle Mayor 55
The Casa del Piñon also houses the town hall of La Unión- Click for map, Calle Mayor La Unión
Telephone: 868 049 941 or 692 925 970
Parking:
There is plenty of parking behind the railway station at the back of the "Catedral del Cante" . Overspill parking is in the carpark of the Parque Minero, so follow the signs for the Parque Minero when driving into La Unión for the venue.
Programme Cante de las Minas 2014
Thursday 7th August
10.30pm On this inaugural night entry to the Catedral del Cante is free of charge, and offers the opportunity to see the three winners of the singing, dancing and percussion competitions from last year free of charge.
The evening begins with the Pregón, basically the opening speeches, which can be a little long-winded and are in Spanish, however, it's well worth sitting through them just to see the winner of last year's Desplante dance trophy, Eduardo Guerrero, who was absolutely magnificent and is destined for great things.
Also performing will be Jeromo Segura who won the coveted Miner's Lamp, the Lámpara Minera, also deservedly so, his voice the perfect instrument for the technically difficult Minera which is the main song, or cante around which this festival revolves, and the surprise winner of the instrumental category, bass guitarist Pepe Bao, with his flamenco-jazz fusion performance.

Friday 8th August, Miguel Poveda
11pm.
Miguel Poveda is truly a flamenco revolution all of his own making and this will be one of the most widely sought after concerts of the festival, following the acute disappointment of fans last year when Poveda became ill with Bronchitis just before his gala performance at the Festival dedicated to his honour 20 years after he carried away the Miner's Lamp himself in the singing competition. Although he insisted on performing to the sell-out audience who jammed the Catedral del Cante to see him, his voice was visibly cracking and he struggled to complete the set. Last year security had a real battle to control the crowds who were desperate to see him perform, his fame worldwide growing as his voice matures and he becomes one of the most extraordinary flamenco artists of his generation.
Poveda first came to La Unión in 1993, when he was still working in a Tablao in Barcelona, and won the coveted Miner's Lamp, launching his career onto a worldwide platform, his success growing with each year.
Tickets 70, 44, 28 and 21 euros

Saturday 9th August
11pm, Niño Josele and the Cante de las Minas Flamenco Dance Company
Tickets 19, 15 and 11 euros
This could be a fairly gentle introduction into the world of flamenco for expats, featuring Niño Josele, and the Cante de las Minas Flamenco Dance Company.
Niño Josele is an artist from Almería, in Andalucia, from a long line of flamenco artists, and although an accomplished flamenco guitarist, has crossed the same bridge as many of the major flamenco guitar stars, and moved away from the traditional forms of pure flamenco, so although his music remains essentially flamenco, is a "newer" crisper form of flamenco, New Flamenco. His first works were doggedly traditional, but he has also ventured into jazz-flamenco fusion collaborations, adding a new dimension to his work. Jazz and flamenco blend surprisingly well, both allowing freedom for interpretation, embellishment and delivery, creating new and dynamic works which cross markets and open up new worlds for traditional flamenco artists.
Expats first venturing into flamenco can find the harsh vocals and unfamiliar rhythms disconcerting, so it is always more comforting to blend rhythm and movement, and on this occasion the guitar of Niño Josele ( real name Juan José Heredia) is accompanied by dancers from the newly formed Cante de las Minas Flamenco Dance Company.

Sunday 10th August
11pm, Carmen Linares with Remembranzas
Carmen Linares is one of the great female voices of Spanish flamenco, her voice pure and unforgiving, making her a great favourite with aficionados who favour the purer lines of flamenco cante. For this reason, this is less of good bet for flamenco novices, but a luxury for those with a taste for the true intensity of flamenco.
Tickets 55, 28, 18 and 13 euros

Monday 11th August
11pm, Sara Baras, Medusa, La Guardiana
Tickets 70, 44, 28 and 21 euros
Sara Baras presents her newest spectacular, Medusa, her subject this time the titanic struggles of the Gods, a story of jealousy, violence and death which should perfectly suit her style and the grand spectaculars she presents.
Sara Baras is an Andalucían dancer, from Cadíz, who was a professional dancer by the age of 18 and one of the most sought after dancers on the circuit. Aged 28 she formed her own company and since then has gone from strength to strength, pausing only to start a family. Technically she favours a crisp and traditional style, but creates grand spectaculars with a strong dramatic content, a convincing storyline and a talented and versatile cast of dancers, so this could well be a good choice for expats who enjoy flamenco dance.
Be careful with the 21 euro tickets as they have limited visibility on the wings and the Catedral del Cante in La Unión is all on one level, with columns supporting the roof, so if you can afford the better tickets, pay a bit more and take a better seat to avoid disappointment.

Tuesday 12th August
11pm, Estrella Morente and the Symphonic Orchestra of the University of Murcia, with El Amor Brujo
One of the greatest voices in flamenco, Estrella Morente, daughter of Enrique Morente, has followed in the footsteps of some of the best known names in flamenco history, recording the work by Manuel de Falla, El amor brujo, which translates roughly as the the Bewitched Love, first composed as a chamber suite, then re-scored as a symphonic suite, with texts by Gregorio Martínez Sierra.
This is an orchestral piece, with songs and spoken verse, the verses sung in an Andalucian Gipsy dialect, including "La Danza Ritual Del Fuego" (Ritual Fire Dance), "Cancion del Fuego Fatuo" (Song of Wildfire, or Song Of The Will-o-the-Wisp) and "Danza Del Terror" (Dance of Terror).
The work has been well received by flamenco critics and offers an alternative form of flamenco for those looking to broaden their horizons.
Estrella Morente is accompanied by the Symphonic Orchestra of the University of Murcia.
Tickets 70, 44,28 and 21 euros Again, be aware that there is limited visibility with the 21 euro tickets

13th, 14th and 15th August
At 10.30pm , Semifinals of the singing, dancing, guitar and percussion classes.
The competition nights begin.
On these three nights contestants who have participated in the fiercely fought heats all over Spain come together to compete for titles in the cante ( singing) dance, guitar and instrumental modes. These nights can be an interesting way for those who want to experience a broad spectrum of flamenco disciplines to attend.
However, it's extremely important to understand that these artist are in a competitive situation, so the cante, for example, is pure flamenco, rather than gala flamenco, and certain pieces will be repeated, so there may well be 3 contestants all performing a minera on the same evening, which can be hard on the ear for those unaccustomed to flamenco. However, there is usually a good blend of dance, guitar and instrumental in amongst the singing, so these can be entertaining nights.
It's well worth picking up a sheet showing the order of performances and looking at the number of songs a contestant will perform. Some of them compete in 3 or 4 different singing categories and their performance can take a good 20 minutes, so if the singing is not to your taste, there are plenty of bars outside for a quick beer, and it's quite acceptable to wander in and out between contestants ( or even during): everybody does and some nights there are more attendees outside of the hall than in it!
You just never know what you're going to get at these particular nights.
Tickets 19,15 and 11 euros

Saturday 16th August
10.30pm The Grand final of the competitions, followed by prizegiving.
Tickets 55, 28, 18 and 13 euros.
revspart
Contact Murcia Today: Editorial 966 260 896 / Office 968 018 268