Date Published: 27/09/2021
ARCHIVED

- Tensions rise in Gibraltar as UK ships intercept Spanish Guardia Civil boat
The Royal Navy and Gibraltar Customs boats prevented the Guardia Civil from intercepting a suspicious speedboat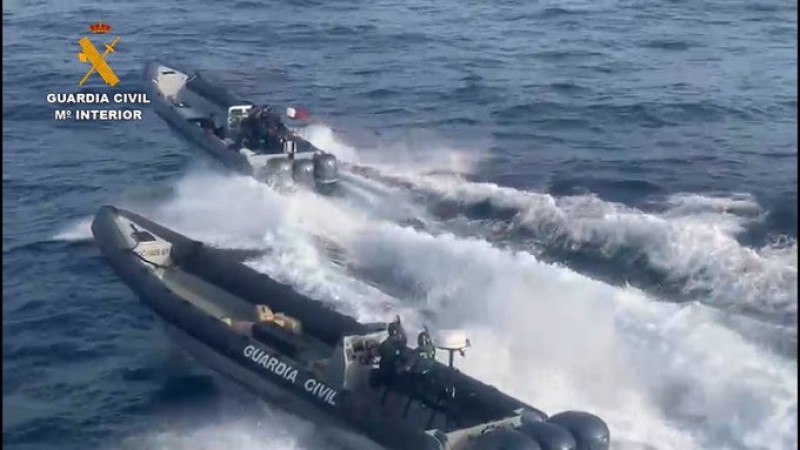 In a move that is sure to put pressure on the already strained relationship between the UK and Spain in relation to the post-Brexit treatment of Gibraltar, an embarrassing incident on Friday September 24 saw a fracas erupt between a Guardia Civil maritime patrol boat and a Royal Navy vessel in the Bay of Algeciras,
a body of Spanish water that the Rock claims as its own.
At around 8:30pm, the Spanish boat moved in to intercept a suspicious looking speed boat, which officers believed at the time might have been carrying illegal tobacco. Around 1.5 miles from the Gibraltar coast, officials from the Guardia Civil report that the UK vessel placed itself between Spanish authorities and the suspect boat, putting all of the crews in danger given the speed they were travelling.
A video of the incident shows the three boats tearing along side by side for several minutes, and at one point, the Royal Navy vessel actually made contact with the stern of the Guardia Civil. Eventually, a Gibraltar Customs boat joined in the scuffle and assisted the Royal Navy in preventing the Spanish officials from approaching; however, the incident was resolved without any major issue when the Gibraltarian ships gave up the chase. As it turned out, the speed boat wasn't actually carrying any prohibited items.
🇪🇸⚡🇬🇧 | Una patrullera del Servicio Marítimo de la Guardia Civil🚢, mientras trataba de identificar a una lancha rápida en la que viajaban varias personas, ha sufrido un incidente este viernes con una embarcación de la Royal Navy del Reino Unido en #Gibraltar. pic.twitter.com/mxaswVGz0D

— INTELPOL🌐 - Inteligencia Política (@intel_pol) September 26, 2021
To make matters worse, this is not the first time an interaction of this kind has taken place. In February this year, the Guardia Civil claimed that their Maritime Rescue ship, the Salvamar Denebola, was harassed by the Royal Navy for more than half an hour as they tried to intercept a merchant ship that was spilling fuel into the same Bay. Spanish officials claim that the UK ship continuously and recklessly crossed back and forth in its path, preventing it from approaching the problem vessel.
In July last year, the detention of Iranian mega-tanker Grace 1 by the Gibraltar security forces and the Royal Marines in Spanish jurisdictional waters caused a major clash between Spain and the UK as the arrest was carried out without the knowledge or authorisation of Pedro Sanchez.
Image: Guardia Civil
Contact Murcia Today: Editorial 966 260 896 / Office 968 018 268